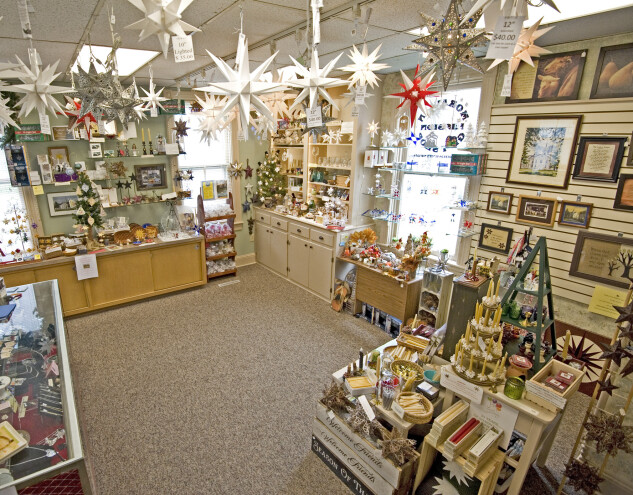 Beginning March 3, 2023, we are open Fridays and Saturdays 10-4. Thursday, Friday and Saturday, from October through December. Available for pre-arranged appointments. Call 717-626-9027 and leave a message or email .
Please continue to follow us on Facebook and Instagram for updates and other interesting things. Moravian Mission Gift Shop, where shopping means giving!
Moravian Mission Gift Shop: "The Little Shop with a Big Heart"
---
Please know we are following all safety procedures to ensure a safe shopping environment for our customers. We look forward to seeing you soon!
We continue to take mail orders and arrange curbside pick up. Call 717-626-9027 and leave a message or email . Thank you and stay safe.
---
We are proud to be a part of Moravian Church Square, designated as the #1 Site & Historical Landmark in Lititz by Trip Advisor.
It began with a mission to help others and has continued for over 30 years. We are thankful for the many ways we have been able to fulfill our mission of financially assisting others in need. Our proceeds benefit missions: 20% locally in Lititz area, 30% Lancaster County and 50% worldwide Moravian Mission projects.
We are a UNIQUE gift shop, specializing in Moravian and Lititz themed items. We strive to support local artisans who supply us with exclusive items found only at our shop. Our volunteer team members will be happy to assist you in your gift selection. Shipping is available for our easy to assemble Moravian star kits, or any other item you may want from the gift shop, anywhere in the continental United States, via USPS.
We carry an assortment of lighted Moravian Stars in various size, design and color.
Our own handmade 100% pure beeswax candles, made the old fashioned way by a group of our own church members, are a specialty of the shop. Candles and candleholders are one of our specialty items.
We carry several styles of beautiful stained glass stars.
Jewelry includes inspirational bracelets and necklaces. Our exclusive, handmade beach glass necklaces and earrings are beautiful and one of a kind.
Note cards in a variety of designs, including Scherenschnitte (German scissor cutting)
Moravian star appliqued tea towels and pot holders
Music selection include CD's featuring brass bands, string and wind ensembles, Christmas Music and traditional Moravian Church music.
Book selections include Moravian history and theology, Music and Moravian hymnals, Lititz history and local interest.
Christmas is always special at the Moravian Mission Gift Shop with Moravian star string lights, ornaments and more
Open 10:00 am to 4 pm on Friday and Saturday from March through September. Thursday, Friday and Saturday, from October through December
Happily opened by appointment, if requested. Tour groups welcome! Please call the shop and leave a message at 717-626-9027, church office 717-626-8515 or 717-627-1915.
Located at 2 Church Square, Lititz, PA. For a map: Click Here
To find the shop, which is at the back of the Lititz Moravian Museum and Archives building, use the sidewalk off the 3rd block East Main Street, just before "Church Square". Or, access from Church Avenue by following the sign "Gift Shop".
MORAVIAN MISSION GIFT SHOP "WHERE SHOPPING MEANS GIVING".
We hope to see you soon.