Statement to the Lititz Moravian Congregation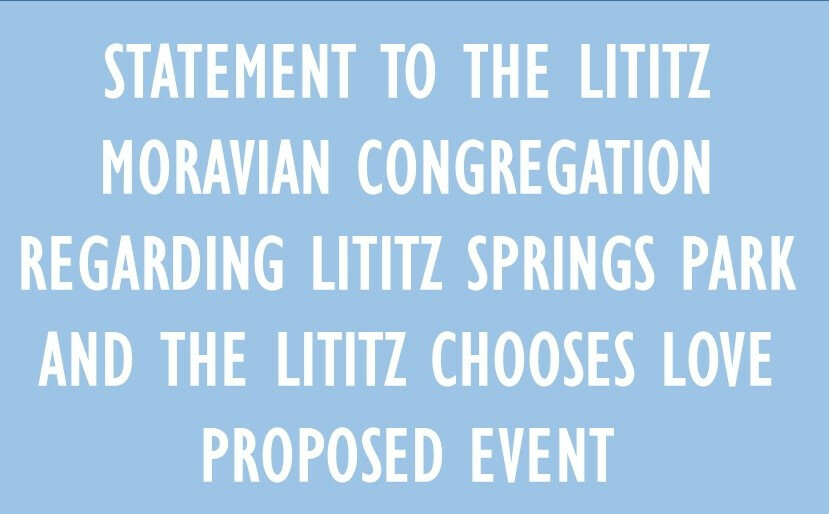 STATEMENT TO THE LITITZ MORAVIAN CONGREGATION REGARDING LITITZ SPRINGS PARK AND THE LITITZ CHOOSES LOVE PROPOSED EVENT
MARCH 10, 2023
There has been a good deal of inaccurate and, sad to say, malicious information being spread concerning our Joint Board's decision to not permit an event to be held this coming summer in Lititz Springs Park.
The rhetoric that has spread through our congregation and our community these past few days has been fueled by misrepresentations and ignited by inaccurate, incomplete reporting.
Many of the comments leveled at Congregation leadership have been hateful, although many have been supportive.
The Board of Trustees leadership would like to set the record straight.
It is correct that the Board of Trustees has directed the Lititz Springs Park Board to deny full use of our congregation-owned park for a June 17, 2023 event sponsored by a group known as Lititz Chooses Love. Apparently many have interpreted this denial as an attack on LBGTQ+ persons. It is not. Those interpreting it that way are wrong.
While it has been reported that the church's decision is "a reversal of the Park Board's approval of the Lititz Chooses Love request," that is inaccurate. August 2022 Park Board Meeting Minutes record that tentative permission was given, but final Park Board approval continues to be withheld, pending receipt of a request proposal from Lititz Chooses Love.
Those minutes show "…The group (Lititz Chooses Love) will be required to submit a request proposal about the event 90 Days prior to June 17th. The proposal will be considered by the park board and voted on at that time." Park Board minutes of January 10, 2023 record that no such proposal had been provided the Park Board. We are aware of no proposal that may have arrived prior to our decision, and were told at that time by the Park Board president that no contract had been released.
The Congregation Board of Trustees did not force this issue. We interceded in response to a request by the Lititz Springs Park Board to do so. In January the Park Board communicated that it wanted the church to provide feedback on the Lititz Chooses Love event "as soon as possible."
Although our Trustees have the ultimate responsibility of Park oversight as spelled out in the governing "Lititz Moravian Congregation Declaration of Trust of Lititz Springs Park, Inc. and Lititz Memorial Square," our Board of Elders was invited to join Trustees in a response to the Park Board.
The Declaration of Trust is a legally binding document, and the church and the Park Board are bound to follow the Trust's requirements. We cannot pick and choose the portions we wish to observe and those some wish to ignore.
We responded to the Park Board's request for guidance as quickly as we could. Our Joint Board met on February 13 where it was determined by majority vote, and affirmed by a majority vote of our Board of Trustees, to direct the Lititz Springs Park Board to deny the use of the Park by all groups that are considered political. The February 13 motion reads,
"That the Board of Trustees tell the Lititz Springs Park Board to deny use of the Park by all groups that are considered political. The Park is to be used for the 4th of July celebration. Families and groups may rent pavilions. All member church groups may use as they have in the past."
In 2022 Lititz Chooses Love was granted full use of the Park and its facilities. However, our Boards determined that the 2022 experience had shown that Lititz Chooses Love failed in its stewardship of the Park on several fronts.
Primarily, they violated the Declaration of Trust by engaging in political activities. In addition, they failed to supervise their authorized participants and demonstrated behaviors reasonable community members – including members of our Boards of Elders and Trustees – found grossly inappropriate. And, in the process, public safety was inadvertently put at risk.
The Declaration of Trust clearly prohibits "Political activities including, without limitation, campaigning, demonstrations, rallies, etc." At its 2022 event held in the Park, as well as its inaugural event held in 2021 outside Warwick Middle School, the group's political activism was noted. In 2021, for example, its keynote speaker was a member of the executive committee of a Pennsylvania state political party and a Central Pennsylvania county political party vice chair. A video of the event posted on Lititz Chooses Love Facebook page documents the nature of a political rally. More germane was that in 2022 similar political overtones were part of its program in our Park.
Last summer Lititz Chooses Love included an adult-content Drag Queen performance as a scheduled part of its June 18 program, of which church leadership was unaware. Trustee president Steve Black was alerted about the adult performance just hours before the event by a concerned Park Board member. That led to surveying the church's leadership to determine whether the event should go on. With last-minute notice, limited information, and very little time to poll congregation leadership, the adult-content Drag Queen event was allowed to continue, this in a program billed as a family event suitable for young children.
Apart from the adult-content Drag Queen show, it was observed that a pair of presenters mocked certain Christian beliefs and the Holy Bible. It was also reported by multiple community sources, congregants and Joint Board members who attended the 2022 Lititz Chooses Love program, that they personally witnessed inappropriate, behavioral, language, vulgarity and dress issues of presenters, with political overtones specifically restricted by the Trust
A major consideration was public safety. The 2022 event inadvertently triggered a repulsive and potentially dangerous protest requiring police intervention. The Lititz Borough Police Department is on record stating that in 2023 it will not have the resources to provide Park security. In its meeting minutes of January 10, 2023, the Park Board stated, "The police force is limited in the staffing it has for the Lititz Chooses Love event. This is noted due to the possible increase in prosecutors (sic) for this event with limited police staff."
And, in the overall was the Boards' obligation to the purpose and continued conservation of the Park. The Declaration of Trust sets forth that it is in the interest of the people of Lititz and the Congregation to preserve "Lititz Springs Park as a public park and place of attractive and healthful resort and recreation."
The Boards are requesting that the Park Board examine the wear and tear all large groups exert on the Park grounds and facilities, without restricting traditional Lititz events such as the annual 4th of July Celebration (mandated in the Trust), Community Art Show, Fire and Ice, nor families, church groups and the others wishing to rent Park pavilions for private gatherings.
All of these considerations led our Boards to make a difficult decision, one that was consistent with the Declaration of Trust and our own discernment as elected church leaders. One that would not lead to a reprise of the previous event. We're aware that some in our church and our community may not agree with it, and for that we ask for their prayers and understanding,
Lititz Moravian Congregation has always been and will always remain a faith community welcoming believers from all walks of life. While the Lititz Chooses Love park-wide event is not approved, the Trustees have made it clear that group members are welcome and encouraged to rent a pavilion in Lititz Springs Park for a private gathering. Toward that end our pastors and members of the Joint Board are in dialogue with the leadership of Lititz Chooses Love.